About the Practice



Metrolina Surgical Specialists has been providing Vascular Surgery, General Surgery and Surgical Endoscopy services to the community since 1992, initially in Mecklenburg and then in Union County.



Mission Statement


Metrolina Surgical Specialists goal is to provide quality healthcare services to you, your family, and our growing community.

Our mission is to make a positive contribution to the vascular and general surgical health of the community one patient at a time.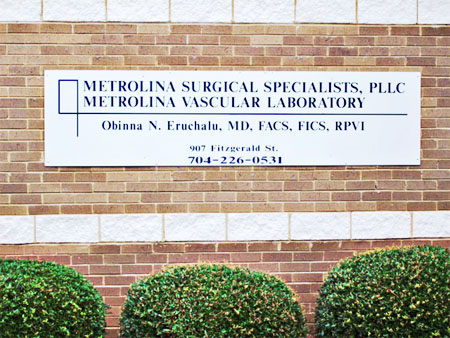 LOCATIONS





Charlotte Office


485 N Wendover Road
Charlotte, NC 28211
(704) 375-0404

Phone


(704) 375-0705

Fax


8:00 am - 5:00 pm
Map & Directions



Monroe Office


907 Fitzgerald Street
Monroe, NC 28112
(704) 226-0531

Phone


(704) 292-7880

Fax


8:00 am - 5:00 pm
Map & Directions

Office Visits by
Appointment Only